Facility Security Signs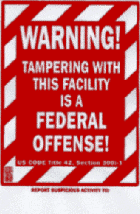 Facility Security Signs
Go to Order Page
With heightened security measures underway at utility facilities, you may be interested in purchasing a number of these signs for your utility.
8" x 12" plastic
$3.00 each, member
$5.00 each, non-member
OR
24" x 36" aluminum
$60.00 each, member
$70.00 each, non-member



(Price includes shipping and handling within the State of Alabama. Additional shipping and handling fees will be added to all orders outside the State of Alabama.)
Read more about Security Issues
in the Member Services Section
AL/FL Joint Technical Training Conference

CANCELED


Sept 22-24, 2020


Panama City Beach, FL
- Hotel honoring Discount! -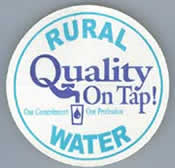 View items by category

ARWA and QOT Apparel & Merchandise

Facility Security Signs

Manuals
- Developers Coming Your Way Fast
- Practical Personnel Management for Small Systems
- Getting Results From Your Experts
- Water Board Bible
Quality on Tap
To view examples of how the Quality on Tap logo can be used, please click on a thumbnail below to view a larger picture.
Open for Registration

See all open CEH classes
in our new training section at
training.alruralwater.com

Wastewater Training: NPDES Permits, SSOs, & DMRs (WW)
Aug 6 - Troy
Aug 20 - Gulf Shores
Onsite/Webinar Choice
Learn More

Water Meter Projects & Management (W)
Aug 13-Webinar
Learn More and Register

Grade I/II Water Certification Test Prep
Starts Sep 1-Online
Learn More and Register

PFAS & PB/CU Current Drinking Water Technologies (W)
Sep 3-Webinar
Learn More and Register

AL/FL Joint Technical Training Conference (W/WW)
CANCELED
September 22-24, 2020
Panama City Beach, Florida
Learn More

Save the Date!
ARWA's 43rd Annual Technical Training Conference (W/WW)
March 14-17, 2021
Mobile, Alabama
Learn More

Water University
Utility Management Certification
Learn More

Schedule your own
On-site CEH Training
Earn CEHs

Plan for future training!
Training Calendar
Water Loss Protection
The ARWA/NRWA ServLine Program protects your utility against losses from customers' water leaks, and provides the opportunity for them to add service line repair replacement protection.
Learn more.
---
Pay Online
Pay any ARWA invoice online.
Pay Online
---
ARWA
Alabama Rural Water Association is a non-profit organization representing water and wastewater systems serving rural communities and towns and commercial firms which support these systems.
We provide assistance to comply with State and Federal regulations, to help with management and operational problems, and to stimulate training initiatives.
GET IN TOUCH
Alabama Rural Water Association
2576 Bell Road
Montgomery AL 36117 
Phone: (334) 396-5511
Fax: (334) 396-7090 
Email: arwa@alruralwater.com
Website: www.alruralwater.com