Legislative News
Alabama Open Meetings Act and COVID-19
March 18, 2020
Subject: Open Meetings Act
FOR IMMEDIATE RELEASE
To Whom It May Concern:
We truly hope you are all doing well in the unprecedented time of National isolation.
One question we have been getting at the office concerns how a public body is supposed to both stay away from folks and still conduct business under the Public Meetings Act.
The governor released a Proclamation today that addresses just this concern. Please find the relevant text below. Read the State of Alabama Proclamation by the Governor, March 13, 2020 (pdf).
Consult your attorney if you have any specific questions concerning how you need to conduct a modified meeting under these circumstances.
Remember, we are in this together. The ARWA is here for you if you need us. Please let us know if we can be of assistance to your group at this time.
Thank you all, and please stay safe.
++++++++++++++++ TEXT EXCERPT ++++++++++++++++
III. Open Meetings Act
I find that the government response to COVID-19 requires a careful balance between concerns for public health and safety (including the effectiveness of COVID-19 mitigation strategies), for the continued operations of governmental body, and for the right of the public to the open conduct of government. To that end:
Notwithstanding any provision of the Open Meetings Act, members of a governmental body may participate in a meeting-and establish a quorum, deliberate, and take action -by means of telephone conference, video conference, or other similar communications equipment if:

Any deliberation conducted, or action taken, during the meeting is limited to matters within the governmental body's statutory authority that is (a) necessary to respond to COVID-19 or (b) necessary to perform essential minimum functions of the governmental body; and
The communications equipment allows all persons participating in the meeting to hear one another at the same time.

Governmental bodies conducting a meeting pursuant to this section are encouraged, to the maximum extent possible, to use communications equipment that allows members of the public to listen to, observe, or participate in the meeting.
No less than twelve hours following the conclusion of a meeting conducted pursuant to this section, a governmental body shall post a summary of the meeting in a prominent location on its website-or, if it has no website, in any other location or using any other method designed to provide reasonable notice to the public. The summary shall recount the deliberations conducted and the actions taken with reasonable specificity to allow the public to understand what happened.
Nothing in this section shall be construed to alter, amend, or modify any other provision of the Open Meetings Act, including the notice requirements found in section 36-25A-3 and the enforcement, penalty, and remedy provisions found in section 36-25A-9. Any action or actions taken in violation of paragraph A will be deemed invalid.
To the maximum extent possible, the terms used in this section shall have the same meaning as the terms defined in section 36-25A-2 of the Open Meetings Act.
++++++++++++++++ END TEXT EXCERPT ++++++++++++++++
Sincerely,
Rob White IV
ARWA Executive Director

State of Alabama Laws of Interest
The State of Alabama has many laws which may affect your utility's operation. Go to the section with a brief synopsis of relevant legislation select an item from the list below:

AL/FL Joint Technical Training Conference
Open for Registration
May 20-21, 2020
Panama City Beach, FL
- Register -
ARWA's 42nd Annual Technical Training Conference
Mobile, Alabama

Rescheduled


July 5 - 8, 2020
- Register -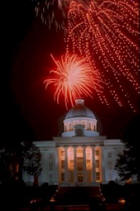 Alabama Capitol

Open for Registration

Proposed Operator Cert Regs and New AWIA Reqts (W/WW)
Online Training Webinar
April 2-was Anniston
April 16-was Eufaula
May 6-was Greenville
June 4-was Sheffield
Learn More and Sign Up

Grade II/III Water Certification Test Prep (W)
RESCHEDULED
MORE INFO SOON
Course starts
April 20-Thorsby
Learn More

Sustainable Utility Management (W/WW)
Online Training Webinar
May 14-was Auburn
Learn More and Sign Up

AL/FL Joint Technical Training Conference (W/WW)
OPEN FOR REGISTRATION
May 20-21, 2020
Panama City Beach, Florida
LEARN MORE & REGISTER

ARWA's 42nd Annual Technical Training Conference (W/WW)
Mobile, Alabama
July 5 - 8, 2020
RESCHEDULED
LEARN MORE & REGISTER

Water University
Utility Management Certification
Learn More

Schedule your own
On-site CEH Training
Earn CEHs

Plan for future training!
Training Calendar

Secure Certificate To provide you with additional protection, we have installed a Secure Certificate which authenticates the ARWA website and encrypts transmitted data such as your name and contact information.
Pay Online
Pay any ARWA invoice online.
Pay Online
Water Loss Protection
The ARWA/NRWA ServLine Program protects your utility against losses from customers' water leaks, and provides the opportunity for them to add service line repair replacement protection. Learn more.
---
ARWA
Alabama Rural Water Association is a non-profit organization representing water and wastewater systems serving rural communities and towns and commercial firms which support these systems.
We provide assistance to comply with State and Federal regulations, to help with management and operational problems, and to stimulate training initiatives.
GET IN TOUCH
Alabama Rural Water Association
2576 Bell Road
Montgomery AL 36117 
Phone: (334) 396-5511
Fax: (334) 396-7090 
Email: arwa@alruralwater.com
Website: www.alruralwater.com