USDA Source Water Protection Program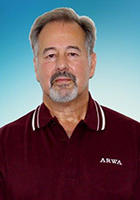 George Marodis
Source Water Specialist
gmarodis
@alruralwater.com

Our goal is to assist rural and small communities served by public water systems to reduce or eliminate the potential risks to drinking water supplies through the development of Source Water Protection Plans and by providing assistance to entities for the implementation of contamination prevention measures.
Objectives:
Coordinate activities and facilitate the process of source water protection planning and implementation.
Provide professional one-on-one on-site assistance and training to rural and small communities in implementing source water protection plans. Provide liaison and assistance in the development of source water protection plans.
Coordinate with state, county and local agencies in identifying and prioritizing areas for source water protection programs.
Facilitate coordination, communication and collaboration between the rural and small community, multi-jurisdictional entities, and local, county, state and federal agencies in the development and implementation of the source water protection plans.
Provide outreach materials to rural and small communities.
Topics of Concern:
Agricultural Runoff
Erosion
Chemical Storage
Animal Feeding Operations
Site Characteristics:
A utility interested in developing a USDA Source Water Protection Plan should have 10,000 customers or less, surface water intake, and be impacted by agriculture.

Potential Contaminant Inventory Maps
Two major services provided through the USDA Source Water Protection Program are the GIS and Contaminant Inventory Programs. The maps developed with these two programs provide a better understanding of the potential risks that exist within a watershed.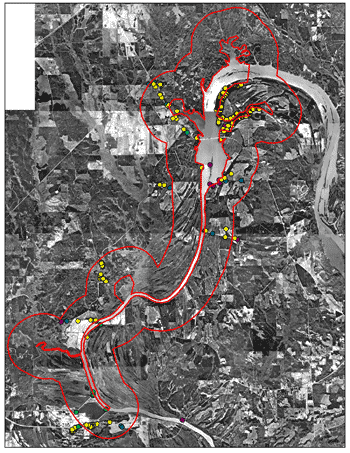 This example of a contaminant inventory is showing 366 potential contaminants to a surface water intake. This Source Water Protection Area is 46 square miles and potential contaminants include septic tanks, landfills, boat ramps, agricultural areas, and cemeteries.
Thanks to all who participated! Images coming soon.
Mark your Calendar for the next
AL/FL Joint Technical Training Conference




May 16-18, 2022


Panama City Beach, FL

- Info Coming Soon! -
Open for Registration

Water Certification Classes
Water I-II | January 20, 2022
Learn More

See all open CEH classes
in our new training section at
training.alruralwater.com

ARWA's 43rd Annual Technical Training Conference (W/WW)
March 14-17, 2021
Mobile, Alabama
Complete!
See Event Pictures

Water University
Utility Management Certification
Learn More

Schedule your own
On-site CEH Training
Earn CEHs

Water Loss Protection
The ARWA/NRWA ServLine Program protects your utility against losses from customers' water leaks, and provides the opportunity for them to add service line repair replacement protection.
Learn more.
---
Pay Online
Pay any ARWA invoice online.
Pay Online
---
ARWA
Alabama Rural Water Association is a non-profit organization representing water and wastewater systems serving rural communities and towns and commercial firms which support these systems.
We provide assistance to comply with State and Federal regulations, to help with management and operational problems, and to stimulate training initiatives.
GET IN TOUCH
Alabama Rural Water Association
2576 Bell Road
Montgomery AL 36117 
Phone: (334) 396-5511
Fax: (334) 396-7090 
Email: arwa@alruralwater.com
Website: www.alruralwater.com