Society of Water Professionals
Join today!
SWP Membership Application (PDF)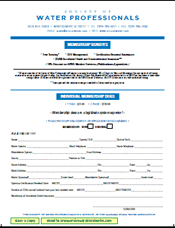 Who manages SWP?
SWP Board of Governors
SWP offers many benefits to water and wastewater professionals. Learn more about the benefits of SWP Membership below.
SWP Benefits and Membership
Who is Eligible?
Board of Directors
Managers
Water Treatment Operators
Wastewater Treatment Operators
Administrative Staff
Field and Metering Crews
Supplier Representatives
Member Services
FREE Training *
Certification Renewal Assistance **
Continuing Education Hours (CEH) Management **
$7,000 Accidental Death and Dismemberment Policy ***
Various Types of Insurance Coverage at Low Group Rates ***
10% Discount on ARWA Member Services... (Publications, Apparel, etc.)
Individual Membership Dues
One Year .........$75
Two Years........$130
Membership dues are a legitimate system expense!
We encourage a two year membership for all state certified water, wastewater and collection system operators. To insure keeping the memberships and record keeping current, we will send an invoice approximately one month prior to membership expiration.
*Free Training
Grant Funding to support Free CEH Training is not always available to the ARWA. However, all current members of the Society of Water Professionals will receive local training FREE of Charge for Water Operator needs. Any Non-Member of the Society of Water Professionals will pay an administrative fee of $50.00 per local training session for any training not covered by a grant. This does not include the registration fees for the ARWA Annual Conference, or the AL/FL Conference.
**CEH Record Keeping
Attention State Certified Water, Wastewater and Collection System Operators. We keep detailed Continuing Education Hour (CEH) records on an ARWA Database to be used for certification renewal assistance. Forms and additional information will be furnished on membership acceptance. The process follows:
Member attends ADEM approved training session and receives documentation of attendance.
Member sends copy of documentation of attendance to Society of Water Professionals at ARWA office.
CEHs will be entered in ARWA's CEH Management Database.
***Additional Insurance
Coverage that is available to Society of Water Professional Members includes the following. Upon approval, other insurance coverage may be available to Society members at group rates.
Cancer Expense Coverage - Available with 100% coverage for Radiation and Chemotherapy
Lump Sum Cancer Benefit - Pays a lump sum amount to $50,000
Lump Sum Heart Attack and Major Heart Surgery Plan - Pays up to $50,000 if you have a heart attack or $10,000 for heart surgery even if you haven't had an attack.
Hospital Intensive Care Plan - Pays from $300 to $600 per day for stays in Intensive Care. Pays whether for accident or illness.
Accident Protection - Several plans are offered with coverage available for you and your family.
Term Life Coverage - Affordable life insurance coverage for you and your family.
Whole Life Insurance - Permanent Value coverage with guaranteed premium, guaranteed cash accumulation, and also guaranteed face amount.
Meet the SWP
Board of Governors
SWP Members
receive discounts and
free CEH training!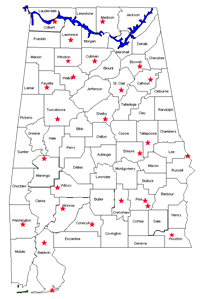 Training offered Statewide
Open for Registration

Operator Certification Classes
Water III-IV | Oct 10th, 2023
WW I-II | Oct 16th, 2023
Water I-II | Oct 17th, 2023
Learn More

See all open CEH classes
in our new training section at
training.alruralwater.com

Water University
Utility Management Certification
Learn More

Schedule your own
On-site CEH Training
Earn CEHs

Water Loss Protection
The ARWA/NRWA ServLine Program protects your utility against losses from customers' water leaks, and provides the opportunity for them to add service line repair replacement protection.
Learn more.
---
Pay Online
Pay any ARWA invoice online.
Pay Online
---
ARWA
Alabama Rural Water Association is a non-profit organization representing water and wastewater systems serving rural communities and towns and commercial firms which support these systems.
We provide assistance to comply with State and Federal regulations, to help with management and operational problems, and to stimulate training initiatives.
GET IN TOUCH
Alabama Rural Water Association
2576 Bell Road
Montgomery AL 36117 
Phone: (334) 396-5511
Fax: (334) 396-7090 
Email: arwa@alruralwater.com
Website: www.alruralwater.com