ARWA Store
We offer specialized items for sale that can sometimes be difficult for member utilities to find, manuals related to running water utilities, security signs, Quality on Tap kits, and a selection of ARWA apparel and QOT merchandise.
New: We are reorganizing our store and will soon have many new items! Check back...

To Shop:
Go directly to the order page where you can view merchandise as you order. As you read through the order item list, just select a link to get more information on it.
Once your order is complete, pay online to receive your items faster.
To Browse:
You may want to browse our shop before ordering. View items by category from this list: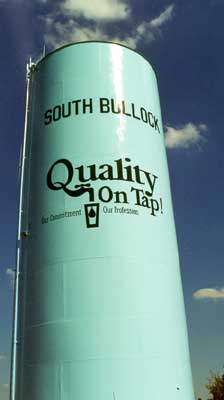 Sample of QOT Kit on Water Tank

View items by category

ARWA and QOT Apparel & Merchandise

Facility Security Signs

Manuals
- Developers Coming Your Way Fast
- Practical Personnel Management for Small Systems
- Getting Results From Your Experts
- Water Board Bible
Quality on Tap
To view examples of how the Quality on Tap logo can be used, please click on a thumbnail below to view a larger picture.
Open for Registration

Basic Water Distribution / Wastewater Collection Operation & Maintenance (W/WW)
Oct 22-Thomasville
Nov 7-Decatur
Learn More

Water I/II Certification Test Prep (W)
Starts Oct 21-Monroeville
Learn More

Water and Wastewater Utility Management Training (W/WW)
3:30-9:00 pm-Dinner Included!
Oct 24-Cullman
Oct 29-Wetumpka
Nov 7-Gulf Shores
Nov 19-Tuscaloosa
Nov 21-Selma
Learn More

Wastewater Process Monitoring and Control (WW)
Nov 6-Northport
Learn More

Practical Microscope Use (WW)
Dec 18-Troy
Learn More

ARWA's 42nd Annual Technical Training Conference
Mobile, Alabama
March 15-18, 2020
Room Reservations are Open!

Water University
Utility Management Certification
Learn More

Schedule your own
On-site CEH Training
Earn CEHs

Plan for future training!
Training Calendar


New! To provide our members with additional protection, we have implemented a Secure Certificate on our website. This authenticates the ARWA website and encrypts transmitted data such as name and contact information. You will see a lock symbol, a green color, or the https:// secure protocol in the address bar of your browser.
Pay Online
Pay any ARWA invoice online.
Pay Online
Water Loss Protection
The ARWA/NRWA ServLine Program protects your utility against losses from customers' water leaks, and provides the opportunity for them to add service line repair replacement protection. Learn more.
---
ARWA
Alabama Rural Water Association is a non-profit organization representing water and wastewater systems serving rural communities and towns and commercial firms which support these systems.
We provide assistance to comply with State and Federal regulations, to help with management and operational problems, and to stimulate training initiatives.
GET IN TOUCH
Alabama Rural Water Association
2576 Bell Road
Montgomery AL 36117 
Phone: (334) 396-5511
Fax: (334) 396-7090 
Email: arwa@alruralwater.com
Website: www.alruralwater.com