Water Board Bible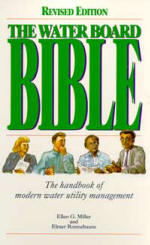 Water Board Bible
Go to Order Page
Since the Water Board Bible's original publication in 1993, over 20 state rural water associations and other organizations have purchased over 3,500 for their small water and wastewater systems. Additionally, over 500 state association conference-goers participated in sessions based on the handbook.
Simultaneously, changes were made to important federal/state laws and regulations concerning "how to do business." It was time to rewrite Section 8, " Ignorance is no excuse" and to update several appendices. We hope the revised edition is helpful to the hard-pressed governing bodies and staff of cities, towns, villages and rural water and wastewater systems.
The purpose of this handbook remains the same: To aid board/council members and utility employees who are stewards of your communities. You have been entrusted with providing a critical service and protecting the public's investment.
This handbook was written for board members, mayors, city council members and utility employees. We hope you use it as a measuring stick to see how your system is doing today- and where you could improve.
Many people have helped with the original and revised editions. The Kansas Rural Water Association Board of Directors supported all phases. Richard Becker created the design and artwork, bringing a much acclaimed dimension to the book. Professional advice and textual review was provided by Gary Hanson, attorney to KRWA; Ken Petersen, attorney to the Texas Rural Water Association; Bernie Hayen, League of Kansas Municipalities and Cheri Hunter, President, Personnel Solutions, Inc. Special thanks go to Karl Mueldener, Kansas Department of Health and Environment, for ongoing support. To those people who took time out of busy schedules for the case history interview, "Thank you!"
To those whom we have not listed by name, our deepest gratitude for your help. Any errors, of course, are the responsibility of the authors.
We again dedicate the Water Board Bible to the thousands of board/council members across the U.S. who take time away from family, business and leisure to help their communities. Let us know what you think........this book's for you.
Ellen G. Miller
Elmer Ronnebaum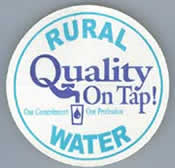 View items by category

ARWA and QOT Apparel & Merchandise

Facility Security Signs

Manuals
- Developers Coming Your Way Fast
- Practical Personnel Management for Small Systems
- Getting Results From Your Experts
- Water Board Bible
Quality on Tap
To view examples of how the Quality on Tap logo can be used, please click on a thumbnail below to view a larger picture.
Open for Registration

Operator Certification Classes
Water III-IV | Oct 10th, 2023
WW I-II | Oct 16th, 2023
Water I-II | Oct 17th, 2023
Learn More

See all open CEH classes
in our new training section at
training.alruralwater.com

Water University
Utility Management Certification
Learn More

Schedule your own
On-site CEH Training
Earn CEHs

Water Loss Protection
The ARWA/NRWA ServLine Program protects your utility against losses from customers' water leaks, and provides the opportunity for them to add service line repair replacement protection.
Learn more.
---
Pay Online
Pay any ARWA invoice online.
Pay Online
---
ARWA
Alabama Rural Water Association is a non-profit organization representing water and wastewater systems serving rural communities and towns and commercial firms which support these systems.
We provide assistance to comply with State and Federal regulations, to help with management and operational problems, and to stimulate training initiatives.
GET IN TOUCH
Alabama Rural Water Association
2576 Bell Road
Montgomery AL 36117 
Phone: (334) 396-5511
Fax: (334) 396-7090 
Email: arwa@alruralwater.com
Website: www.alruralwater.com