Water and Wastewater Operator Certification
Examination Preparatory Training
Attend a Local Course (listed below)
We hold classes periodically across the state on a fee basis. See open courses and course hour requirements below.
Create a Custom On-site Course
We can also customize an on-site course for you to be held at a facility of your choice. Call us at (334) 396-5511 to schedule training at your location! Or send a Training Information Request to us and be sure to include areas of interest and estimated number of students. - Contact Us about Custom On-Site Training

Local Courses
Check back for more upcoming class information!
Course Information
Register

Grade I/II Water (30 hour course)
Course: $400
Manual
$240 Member Utility
$265 Non-Member Utility
Instructor: Katie Hill
Starts: January 20th, 2022 at 4:00 pm

Location: Online - This will be an online certification class. Students will need access to a computer and internet. Handouts will be provided through the webinar for students to print out. Attendance will be tracked through the webinar software. The instructor will be available outside of the webinar hours to answer questions as well.

Use the
Information and
Registration Form
then
Pay Online
Follow this link and choose Pay Now (bottom left).
Or Pay by mail

* Students are responsible for the purchase of the Course Manuals and other training materials. Student participation is the responsibility of the employer and/or student. The ARWA is not responsible for student involvement, participation, attendance, or course completion by the student. The ARWA neither implies nor guarantees that any student will pass the State of Alabama Water or Wastewater ABC Certification Examination. The ARWA reserves the right to refuse any and all enrollments and the right to terminate enrollment of any student due to lack of participation and/or conduct.

Courses are offered for water or wastewater operator certification examination preparation purposes only. They are not available for Continuing Education Hours (CEHs). Individuals must attend 100% of each course for substitution of required experience credit purposes for operator certification.

It is the responsibility of each individual attending an ARWA Water and Wastewater Operator Certification Exam Preparatory Training Course to comply with the ADEM Division 10 Regulations in order to qualify for a certification examination through the ADEM and to meet operator certification requirements.

Each ARWA Water and Wastewater Operator Certification Exam Preparatory Training Program Course requires a 10 student minimum (or equivalent cost) in order to be held, with a maximum number of 15 students per location.

Enrollment Fees for the courses below are as follows:

30 hour water or wastewater course - $400.00 per student*
45 hour water or wastewater course - $500.00 per student*
60 hour water or wastewater course - $650.00 per student*

* Enrollment Fees do not include the cost of the Study Guide. Study guide purchase is the responsibility of the student and is required for course participation.
New classes are being scheduled regularly, please check back or contact the ARWA at 334-396-5511 for information on additional classes.
Course Hour Requirements
Water Operator Training Course Information (Grade I)
Grade
Hours
Grade I
Water Distribution Systems
15 hrs
Grades II & III
Water Distribution Systems
15 hrs
Water Treatment
15 hrs
Grades III & IV
Water Treatment
45 hrs
Advanced Water Treatment
45 hrs
Wastewater Operator Training Course Information
Grade
Hours
Grade IC
Sanitary Sewer Collection Systems
30 hrs
Grades IC - I
Sanitary Sewer Collection Systems
15 hrs
Wastewater Treatment
15 hrs
Grades II - IV
Wastewater Treatment
45 hrs
Advanced Wastewater Treatment
45 hrs

For more information about
the Water and Wastewater Operator
Certification Renewal Process,
go to the ADEM website
at adem.alabama.gov.
Thanks to all who participated! Images coming soon.
Mark your Calendar for the next
AL/FL Joint Technical Training Conference




May 16-18, 2022


Panama City Beach, FL

- Info Coming Soon! -
Quicklinks
Certification Home

Qualifications

Test Prep Courses

Preparing for W/WW operator certification testing?
Our Test Prep courses are offered statewide!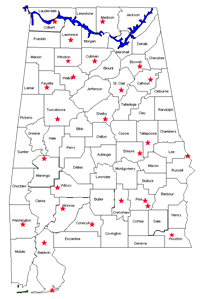 Check the Calendar for upcoming Certification and CEH training.
Open for Registration

Water Certification Classes
Water I-II | January 20, 2022
Learn More

See all open CEH classes
in our new training section at
training.alruralwater.com

ARWA's 43rd Annual Technical Training Conference (W/WW)
March 14-17, 2021
Mobile, Alabama
Complete!
See Event Pictures

Water University
Utility Management Certification
Learn More

Schedule your own
On-site CEH Training
Earn CEHs

Water Loss Protection
The ARWA/NRWA ServLine Program protects your utility against losses from customers' water leaks, and provides the opportunity for them to add service line repair replacement protection.
Learn more.
---
Pay Online
Pay any ARWA invoice online.
Pay Online
---
ARWA
Alabama Rural Water Association is a non-profit organization representing water and wastewater systems serving rural communities and towns and commercial firms which support these systems.
We provide assistance to comply with State and Federal regulations, to help with management and operational problems, and to stimulate training initiatives.
GET IN TOUCH
Alabama Rural Water Association
2576 Bell Road
Montgomery AL 36117 
Phone: (334) 396-5511
Fax: (334) 396-7090 
Email: arwa@alruralwater.com
Website: www.alruralwater.com