ARWA Workers' Comp Insurance Fund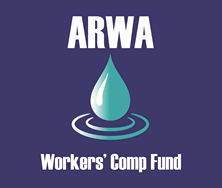 Underwritten by the
Municipal Workers Compensation Fund
www.almwcf.org

The ARWA Workers' Compensation Insurance Program (underwritten by the Municipal Workers Compensation Fund), is an opportunity for ARWA members to save money on Workers Compensation Insurance.
** Members who have enrolled in the program are enjoying significant savings and in most cases did so without changing their current insurance agent who issued their workers comp insurance through this program! **
Who is eligible?
All publicly organized members of the Alabama Rural Water Association.
What are the benefits?
Program participants will have access to…
Safety Services
Dedicated Safety Team
losscontrol.org/about/loss-control-staff.html
Access to members of a dedicated loss control safety team across the state of Alabama.
Safety Video Library
losscontrol.org/safety-video-library.html
Access a library of over 500 videos that can be used to satisfy the needs of any safety training program.
Dedicated Hotline
losscontrol.org/employment-hotline.html
FREE legal support on all employment related questions such as hiring and dismissing employees.
Claim Form Library
almwcf.org/claims.html
Find and download state mandated claim forms easily and instantly.
Other Services
Special Premium Discounts
Special low-rates for water and wastewater systems.
Special Premium Financing
Special financing allows insurance payments to be spread over a 12 month period.
Member Dividends
This is a non-profit program that pays back dividends to members annually.
Get a Free Quote!
You have nothing to lose by indicating your interest. You may either:
Complete the form below and someone will contact you.
Call at your convenience 1-877-92-WATER (1-877-929-2837).
Yes, I would like a free quote!
Thank you for your interest and participation. If you have any questions, please call the ARWA Office at (334) 396-5511.
AL/FL Joint Technical Training Conference
Open for Registration
May 20-21, 2020
Panama City Beach, FL
- Register -
ARWA's 42nd Annual Technical Training Conference
Mobile, Alabama

Rescheduled


July 5 - 8, 2020
- Register -
Open for Registration

Proposed Operator Cert Regs and New AWIA Reqts (W/WW)
Online Training Webinar
April 2-was Anniston
April 16-was Eufaula
May 6-was Greenville
June 4-was Sheffield
Learn More and Sign Up

Grade II/III Water Certification Test Prep (W)
RESCHEDULED
MORE INFO SOON
Course starts
April 20-Thorsby
Learn More

Sustainable Utility Management (W/WW)
Online Training Webinar
May 14-was Auburn
Learn More and Sign Up

AL/FL Joint Technical Training Conference (W/WW)
OPEN FOR REGISTRATION
May 20-21, 2020
Panama City Beach, Florida
LEARN MORE & REGISTER

ARWA's 42nd Annual Technical Training Conference (W/WW)
Mobile, Alabama
July 5 - 8, 2020
RESCHEDULED
LEARN MORE & REGISTER

Water University
Utility Management Certification
Learn More

Schedule your own
On-site CEH Training
Earn CEHs

Plan for future training!
Training Calendar

Secure Certificate To provide you with additional protection, we have installed a Secure Certificate which authenticates the ARWA website and encrypts transmitted data such as your name and contact information.
Pay Online
Pay any ARWA invoice online.
Pay Online
Water Loss Protection
The ARWA/NRWA ServLine Program protects your utility against losses from customers' water leaks, and provides the opportunity for them to add service line repair replacement protection. Learn more.
---
ARWA
Alabama Rural Water Association is a non-profit organization representing water and wastewater systems serving rural communities and towns and commercial firms which support these systems.
We provide assistance to comply with State and Federal regulations, to help with management and operational problems, and to stimulate training initiatives.
GET IN TOUCH
Alabama Rural Water Association
2576 Bell Road
Montgomery AL 36117 
Phone: (334) 396-5511
Fax: (334) 396-7090 
Email: arwa@alruralwater.com
Website: www.alruralwater.com