ARWA Circuit Rider Program
Examples of Actual Leak Detection Results

This is a video of a large leak found at a Water Utility in 2012 while ARWA was performing a Leak Survey. This leak was approximately 100 gallons per minute, and had been leaking for several weeks prior to being located.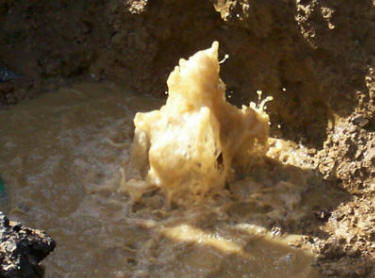 This leak was found in April 2007 at the Ardmore Water System by Franklin Buzbee, a Circuit Rider for Alabama Rural Water Association. The system had 1,050 customers located in Limestone County. The leak was estimated at 75 gallons per minute. After repairs were made, the system saved approximately $5,670 per month.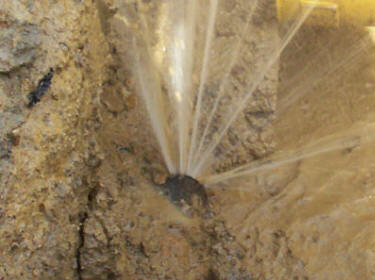 This leak in Ardmore was located on State Line Road east of Jones Avenue. The leak was not surfacing. After it was excavated the water level did not reach ground level. It was escaping through another underground means.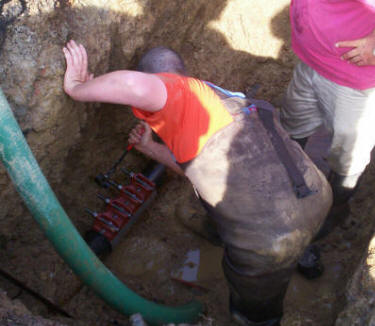 Employees of the Ardmore Water System are shown repairing the leak on the day it was located. They stated had they not seen the leak and would not have believed there was a leak at this location.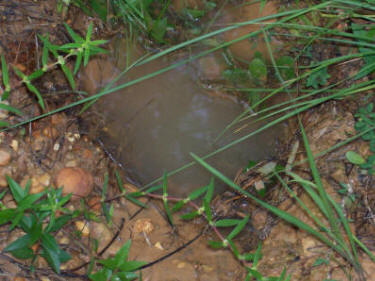 This 100 Gallon Per Minute leak at the Harrisburg Water Authority was surfacing near a drainage ditch. The ditch was covered with ground foliage making it nearly impossible to see. The water was running down the ditch to a nearby stream.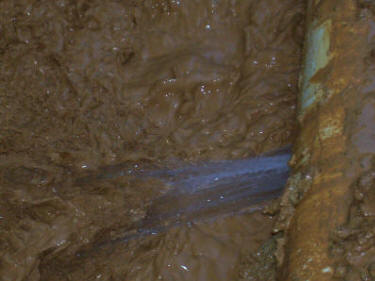 Harrisburg Water Authority 100 Gallon per minute leak. Customers in the Pondville Area had been without water for 4 days when this leak was located. Harrisburg Water Authority is located in Bibb County and serves 345 customers. The repair of this leak resulted in a savings to the system of $2,014.80 per month.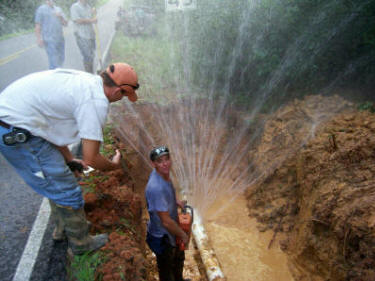 Harrisburg Water Authority's maintenance crews make repairs on the 6 inch PVC water main.
AL/FL Joint Technical Training Conference
Open for Registration
May 20-21, 2020
Panama City Beach, FL
- Register -
ARWA's 42nd Annual Technical Training Conference
Mobile, Alabama

Rescheduled


July 5 - 8, 2020
- Register -
Open for Registration

Proposed Operator Cert Regs and New AWIA Reqts (W/WW)
Online Training Webinar
April 2-was Anniston
April 16-was Eufaula
May 6-was Greenville
June 4-was Sheffield
Learn More and Sign Up

Grade II/III Water Certification Test Prep (W)
RESCHEDULED
MORE INFO SOON
Course starts
April 20-Thorsby
Learn More

Sustainable Utility Management (W/WW)
Online Training Webinar
May 14-was Auburn
Learn More and Sign Up

AL/FL Joint Technical Training Conference (W/WW)
OPEN FOR REGISTRATION
May 20-21, 2020
Panama City Beach, Florida
LEARN MORE & REGISTER

ARWA's 42nd Annual Technical Training Conference (W/WW)
Mobile, Alabama
July 5 - 8, 2020
RESCHEDULED
LEARN MORE & REGISTER

Water University
Utility Management Certification
Learn More

Schedule your own
On-site CEH Training
Earn CEHs

Plan for future training!
Training Calendar

Secure Certificate To provide you with additional protection, we have installed a Secure Certificate which authenticates the ARWA website and encrypts transmitted data such as your name and contact information.
Pay Online
Pay any ARWA invoice online.
Pay Online
Water Loss Protection
The ARWA/NRWA ServLine Program protects your utility against losses from customers' water leaks, and provides the opportunity for them to add service line repair replacement protection. Learn more.
---
ARWA
Alabama Rural Water Association is a non-profit organization representing water and wastewater systems serving rural communities and towns and commercial firms which support these systems.
We provide assistance to comply with State and Federal regulations, to help with management and operational problems, and to stimulate training initiatives.
GET IN TOUCH
Alabama Rural Water Association
2576 Bell Road
Montgomery AL 36117 
Phone: (334) 396-5511
Fax: (334) 396-7090 
Email: arwa@alruralwater.com
Website: www.alruralwater.com