The Importance of Work Orders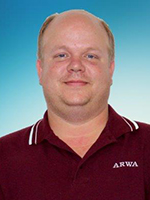 Robert White, IV
ARWA Energy Circuit Rider
By: Robert White, IV, ARWA Energy Circuit Rider
Every once and awhile, the Alabama Rural Water Association gets a call from a system that has experienced a dramatic turnover of employees or decisionmakers and has fallen into an area of danger that might jeopardize system operations. It is at times like these that Circuit Riders must swiftly move into action and try to assist the folks now in control of that entity understand their current situation and gain control of operations so that the system does not fall into a state of
non-compliance or financial distress.
One of the places we always start is by analyzing the available paperwork of the system. Done correctly, creating the appropriate paper-trails can not only leave clues that might save a struggling system, but also assist in streamlining the day-to-day operations of a well-managed system like yours.
Allow me to explain one particularly important point of recordkeeping; system work orders. Work orders do more for the system than allow a manager to hand out tasks to the crew. When used properly, work orders complete your system's data picture in a way that allows the office information to match field information as closely as possible. This is hugely important when trying to understand exactly where your system stands as it relates to maintenance and replacement of assets, as well as the current status and history of all customer accounts.
Every standard billing and account management system offers the ability to generate and record work orders. Every person who interacts with that system should receive training to ensure that the work order system is in place and being used appropriately. This information can be used to ensure that customers with bad debt aren't able to simply move about within your system and accrue more debt. This information can also be used to leverage grants and loans from various agencies. Most importantly, however, this information can be used by employees and administrators to better plan improvements to the system, and resolve any customer conflicts that come along the way.
First appeared in Waterline, Summer 2017
- More News -
Open for Registration

Operator Certification Classes
Water III-IV | Oct 10th, 2023
WW I-II | Oct 16th, 2023
Water I-II | Oct 17th, 2023
Learn More

See all open CEH classes
in our new training section at
training.alruralwater.com

Water University
Utility Management Certification
Learn More

Schedule your own
On-site CEH Training
Earn CEHs

Water Loss Protection
The ARWA/NRWA ServLine Program protects your utility against losses from customers' water leaks, and provides the opportunity for them to add service line repair replacement protection.
Learn more.
---
Pay Online
Pay any ARWA invoice online.
Pay Online
---
ARWA
Alabama Rural Water Association is a non-profit organization representing water and wastewater systems serving rural communities and towns and commercial firms which support these systems.
We provide assistance to comply with State and Federal regulations, to help with management and operational problems, and to stimulate training initiatives.
GET IN TOUCH
Alabama Rural Water Association
2576 Bell Road
Montgomery AL 36117 
Phone: (334) 396-5511
Fax: (334) 396-7090 
Email: arwa@alruralwater.com
Website: www.alruralwater.com