Utility Security and Readiness Issues
ARWA supports members in initiatives to improve security and emergency preparedness. There are several important tools available online. In addition, contact us if you need assistance.
---
FOR SALE
With heightened security measures underway at utility facilities, you may be interested in purchasing a number of these signs for your utility.
8" x 12" plastic
OR
24" x 36" aluminum

(Price includes shipping and handling within the State of Alabama. Additional shipping and handling fees will be added to all orders outside the State of Alabama.)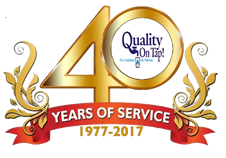 Identity Theft Prevention Program Compliance Model
SECURITY SYSTEM ADVISORY WARNINGS
National Terrorism Advisory System (NTAS)

For more on risk level, threats, and protection, visit the Dept of Homeland Security website at dhs.gov.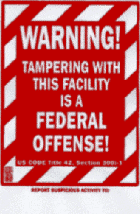 Order warning signs through ARWA Sales.

Open for Registration

Operation and Maintenance for Water and Wastewater Pumps and Panels (W/WW)
Sep 27-Daleville
Oct 11-Boaz
Oct 23-Vernon
Nov 8-Thomasville
Learn More

Electrical Training and Pump Maintenance (WW)
Sep 27-Russellville
Learn More

Understanding and Complying with Sanitary Sewer Overflow Permit Requirements (WW)
Oct 18-Livingston
Dec 6-Auburn
Learn More

Water and Wastewater Utility Management Training
Oct 16-Decatur
Oct 23-Monroeville
Oct 30-Rainbow City
Nov 1-Jemison
Nov 15-Jasper
Nov 29-Enterprise
Learn More

Water University
Utility Management Certification
Learn More

Schedule your own
On-site CEH Training
Earn CEHs

Plan for future training!
Training Calendar

Visit us on Facebook!

Water Loss Protection
The ARWA/NRWA ServLine Program protects your utility against losses from customers' water leaks, and provides the opportunity for them to add service line repair replacement protection. Learn more.
Online CEH Training
ARWA's partnetship with SunCoast Learning provides quality online training, written FOR water and wastewater professionals BY water and wastewater professionals. Learn more.
Pay Online
Pay any ARWA invoice online.
Pay Online
Want Online Bill Pay for your Customers?
Team up with ARWA & nexcheckGov for Payment Processing, Debt Collection Services, and Online Solutions for your utility. Learn more.
---
ARWA
We are a non-profit organization representing water and wastewater systems serving rural communities and towns and commercial firms which support these systems. We provide assistance to comply with State and Federal regulations, to help with management and operational problems, and to stimulate training initiatives. Learn more about us.
GET IN TOUCH
Alabama Rural Water Association
2576 Bell Road
Montgomery AL 36117 
Phone: (334) 396-5511
Fax: (334) 396-7090 
Email: arwa@alruralwater.com
Website: www.alruralwater.com
SEARCH

Custom Search

Visit us on Facebook at facebook.com/alruralwater.
Follow us to keep up with the latest activities, training opportunities, and events!