How to Apply for the Scholarship

ARWA Offers Educational Opportunities
Read about past
scholarship recipients

Application packages for next year will be available in February 2019 and will be due on or about March 31, 2019.



The information below is 2018 Scholarship Information. It is for your information only and is subject to change for next year.
2018 Scholarship Application Package (pdf)
2018 Scholarship Application - Form Only (pdf)


Please note the application package must have been postmarked no later than March 31, 2018.

Process
The application (and all attachments thereto) must be signed, completed and all requirements of the package must be completed and submitted to the Alabama Rural Water Association Scholarship Fund 2576 Bell Road, Montgomery, AL 36117. If an applicant fails to complete the entire application or fails to submit all of the items in the format requested by the deadline date, the application will not be considered for any purpose or under any circumstance with respect to the scholarships of the Program.
Please note that for student applications, both the student applying for the scholarship and the parent/guardian of the student must sign the application and, if either of such signatures is not on the application, the application will be considered incomplete, and not considered in the application process. For adults applying, only the signature of the employee is required.
The application with all required submissions must be postmarked no later than the specified due date. Any package received with a later postmark will not be considered.
The John A. Garrett Scholarship Program does not, and will not discriminate, on the basis of race, color, sex, religion or national origin or on any other basis in either the application process or in the consideration and granting of the scholarships provided. The regions established by the ARWA are based upon a balanced number of counties in which its utility members who created the program are located. As a result, the scholarship for which you are applying is based upon the Northern, Central, and Southern regions of the State. A map showing the regions established is attached to the application package and available here.
By submitting the application package and submissions relating to the application, the applicant and his or her parent/guardian signing the application are certifying that the information submitted is true and correct and the applicant and his or her parent/guardian are agreeing to the scholarship conditions set forth below.
Scholarship Conditions
The terms and conditions, on which the scholarships are to be made for this scholarship year, are as follows:
Three scholarships shall be transmitted to the accredited school selected by the scholarship recipient. For three regions representing North, Central, and South Alabama there will be one scholarship awarded per region in the amount of $750 each.

Three scholarships shall be awarded to individuals qualified and selected to attend State of Alabama Water/Wastewater Operator Certification School of the ARWA for Grades I - IV. For three regions representing North, Central and South Alabama there will be one scholarship awarded per region for cost of tuition, manuals and examination fees not to exceed $750 each.

The scholarship shall be granted to:

High School Graduates of employees with at least two years of employment with an ARWA member water or wastewater utility. Undergraduate students are also eligible.
Employees with at least two years of employment with an ARWA member water or wastewater utility.
Children (high school graduates) of ARWA Board Members or Staff
ARWA Staff
ARWA Board of Directors

The three higher education scholarships shall be announced and awarded prior to May 31st of each year, but are contingent and subject to the scholarship recipient graduating from high school and passing any required graduation exam. Undergraduate applicants must be enrolled as a full time student and in good standing, meeting necessary institution GPA.

Three ARWA Operator Certification Course scholarships will be awarded to qualifying individuals prior to May 31st of each year, but are contingent and subject to the scholarship recipient meeting the employment requirements with an ARWA Member utility. Individuals must register to attend the ARWA Operator Certification Course for the Grade level choice of I - IV and attend 75% of the instructional classes for tuition to be paid. If the student fails to attend class or participate less than 75% for any reason other than documented medical reason, the scholarship will be withdrawn and returned to the ARWA John A. Garrett Scholarship Fund.
The scholarship shall not be renewable and, to the extent of the amount awarded, will be only for the one-year term.
The scholarship will be paid by the Scholarship Fund directly to the educational institution and to ARWA Operator Certification Program for credit to the students account at the institution with notification of receipt to be received from the educational institution.

In order for the scholarship fund to be received for the benefit of the scholarship recipient, the student must enroll for a minimum of 12 semester hours at the institution selected, which full-time status must be certified by the institution or register for full time Certification Course participation through the ARWA. Failure to qualify for the minimum hours will result in a rescission of the scholarship with the funds being returned from the institution to the ARWA John A. Garrett Scholarship Fund. There are no exceptions to this rule, and except as determined by the Scholarship Board on a nondiscriminatory basis, there will be no deferral of enrollment.

Eligible applicant scholarships will not be awarded solely based upon need, nor will need be a predominate basis upon which any determination is made. Leadership ability will also be a determining factor.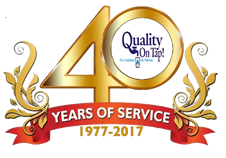 View the Waterline article,
ARWA Provides Educational Assistance 2018 Scholarships Awarded (pdf).

Learn More...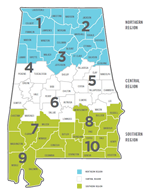 Scholarship Region Map
Open for Registration

Operation and Maintenance for Water and Wastewater Pumps and Panels (W/WW)
Sep 27-Daleville
Oct 11-Boaz
Oct 23-Vernon
Nov 8-Thomasville
Learn More

Electrical Training and Pump Maintenance (WW)
Sep 27-Russellville
Learn More

Understanding and Complying with Sanitary Sewer Overflow Permit Requirements (WW)
Oct 18-Livingston
Dec 6-Auburn
Learn More

Water and Wastewater Utility Management Training
Oct 16-Decatur
Oct 23-Monroeville
Oct 30-Rainbow City
Nov 1-Jemison
Nov 15-Jasper
Nov 29-Enterprise
Learn More

Water University
Utility Management Certification
Learn More

Schedule your own
On-site CEH Training
Earn CEHs

Plan for future training!
Training Calendar

Visit us on Facebook!

Water Loss Protection
The ARWA/NRWA ServLine Program protects your utility against losses from customers' water leaks, and provides the opportunity for them to add service line repair replacement protection. Learn more.
Online CEH Training
ARWA's partnetship with SunCoast Learning provides quality online training, written FOR water and wastewater professionals BY water and wastewater professionals. Learn more.
Pay Online
Pay any ARWA invoice online.
Pay Online
Want Online Bill Pay for your Customers?
Team up with ARWA & nexcheckGov for Payment Processing, Debt Collection Services, and Online Solutions for your utility. Learn more.
---
ARWA
We are a non-profit organization representing water and wastewater systems serving rural communities and towns and commercial firms which support these systems. We provide assistance to comply with State and Federal regulations, to help with management and operational problems, and to stimulate training initiatives. Learn more about us.
GET IN TOUCH
Alabama Rural Water Association
2576 Bell Road
Montgomery AL 36117 
Phone: (334) 396-5511
Fax: (334) 396-7090 
Email: arwa@alruralwater.com
Website: www.alruralwater.com
SEARCH

Custom Search

Visit us on Facebook at facebook.com/alruralwater.
Follow us to keep up with the latest activities, training opportunities, and events!