Membership Information
Water/Wastewater
Membership Application (pdf)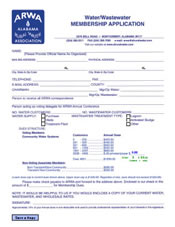 Join today!
Water and Wastewater Utility Memberships
ARWA staff are available to assist members with technical, financial, administrative and management services. Read about services.
In addition, members have access to special training and discounts on training and purchases.
Eligibility:
Members:
- Community Water and Wastewater Systems
Non-Voting Members:
- Non-Transient/Non Community Systems
- Transient Non-Community Systems
Dues
Voting Members: Community Water/Wastewater Systems
Number of Customers
Annual Dues*
0-250
$425
251-500
$450
501-830
$500
831-1,200
$550
1,201-2,037
$600
2,038-4,650
$0.29p/meter/p/year
Over 4,651
$1,350
Lower dues cap is current dues shown above.
Upper dues cap is $1,350. Regardless of size, dues should not exceed $1,350.
Non-Voting Associate Members
Type of Services
Annual Dues*
Non-Transient Non Community Systems
$500
Transient Non Community Systems
$500
* Note: Approximately 15% of your annual dues is non-deductible and used to provide professional representation of your interests in the legislature.
Open for Registration

See all open CEH classes
in our new training section at
training.alruralwater.com

Grade II/III Wastewater Certification Test Prep
Starts October 20, 2020
On-line Training
Learn More

AL/FL Joint Technical Training Conference (W/WW)
CANCELED
September 22-24, 2020
Panama City Beach, Florida
Learn More

Save the Date!
ARWA's 43rd Annual Technical Training Conference (W/WW)
March 14-17, 2021
Mobile, Alabama
Learn More

Water University
Utility Management Certification
Learn More

Schedule your own
On-site CEH Training
Earn CEHs

Plan for future training!
Training Calendar
Water Loss Protection
The ARWA/NRWA ServLine Program protects your utility against losses from customers' water leaks, and provides the opportunity for them to add service line repair replacement protection.
Learn more.
---
Pay Online
Pay any ARWA invoice online.
Pay Online
---
ARWA
Alabama Rural Water Association is a non-profit organization representing water and wastewater systems serving rural communities and towns and commercial firms which support these systems.
We provide assistance to comply with State and Federal regulations, to help with management and operational problems, and to stimulate training initiatives.
GET IN TOUCH
Alabama Rural Water Association
2576 Bell Road
Montgomery AL 36117 
Phone: (334) 396-5511
Fax: (334) 396-7090 
Email: arwa@alruralwater.com
Website: www.alruralwater.com