Operator Certification Exam Location Changes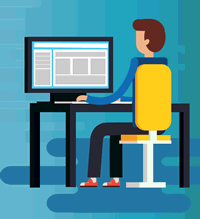 The Alabama water and wastewater operator exams are administered at one of the Computer Based Test (CBT) Exam Centers owned and operated by a company called PSI/AMP. (Formerly Applied Measurement Professionals, PSI has acquired AMP.) Once an applicant is approved to take the exam, PSI/AMP will notify the applicant directly by e-mail and by standard mail. Please be sure and provide a valid e-mail address on your Form 505 application when applying so that you will receive prompt notification with directions on how to sign up for a specific exam.
Written exams are no longer administered. As an applicant, you will take an electronic exam given at one of the four PSI/AMP-proctored test centers located around the state. Some of the previous exam locations have been changed and the following locations are the only sites available currently throughout the State.
Upon receiving notification from PSI/AMP, the applicant selects an exam location and registers in advance to take the exam at a specific time. Upon receiving the email notification (or a notification card in the regular mail), you must register to take the exam at the PSI/AMP web site at http://online.goamp.com/CandidateHome/CandidateInformation.aspx.
TESTING LOCATIONS
BIRMINGHAM
100 Centerview Dr. Suite 100
Vestavia Hills, AL 35216
HUNTSVILLE
4900 University Square Suite 4
Huntsville, AL 35816
MOBILE
Dorsey Center
6051-B Airport Blvd.
Mobile, AL 36608
MONTGOMERY
500 Interstate Park Drive Suite 530
Montgomery, AL 36109
XX
AL/FL Joint Technical Training Conference

CANCELED


Sept 22-24, 2020


Panama City Beach, FL
- Hotel honoring Discount! -
Open for Registration

See all open CEH classes
in our new training section at
training.alruralwater.com

Wastewater Training: NPDES Permits, SSOs, & DMRs (WW)
Aug 20 - Gulf Shores
Onsite/Webinar Choice
Learn More

Grade I/II Water Certification Test Prep
Starts Sep 1-Online
Learn More and Register

Water Meter Projects & Management (W)
Sep 2 -Webinar
Learn More and Register

PFAS & PB/CU Current Drinking Water Technologies (W)
Sep 3-Webinar
Learn More and Register

AL/FL Joint Technical Training Conference (W/WW)
CANCELED
September 22-24, 2020
Panama City Beach, Florida
Learn More

Save the Date!
ARWA's 43rd Annual Technical Training Conference (W/WW)
March 14-17, 2021
Mobile, Alabama
Learn More

Water University
Utility Management Certification
Learn More

Schedule your own
On-site CEH Training
Earn CEHs

Plan for future training!
Training Calendar
Water Loss Protection
The ARWA/NRWA ServLine Program protects your utility against losses from customers' water leaks, and provides the opportunity for them to add service line repair replacement protection.
Learn more.
---
Pay Online
Pay any ARWA invoice online.
Pay Online
---
ARWA
Alabama Rural Water Association is a non-profit organization representing water and wastewater systems serving rural communities and towns and commercial firms which support these systems.
We provide assistance to comply with State and Federal regulations, to help with management and operational problems, and to stimulate training initiatives.
GET IN TOUCH
Alabama Rural Water Association
2576 Bell Road
Montgomery AL 36117 
Phone: (334) 396-5511
Fax: (334) 396-7090 
Email: arwa@alruralwater.com
Website: www.alruralwater.com