Continuing Education

Chris Lovelace
Program Specialist
clovelace@
alruralwater.com
The ARWA is the leading water and wastewater training organization in the State. Continuing Education Training, needed to maintain certification as well as the learn valuable skills is offered Statewide through the Association.
Registration for classes opens 3-6 weeks before the class date at which time you will be able to register online, by mail or by fax. The Training Calendar is updated as new classes approach so check back.
Go to the Continuing Education calendar.
Training sessions are designed to:
Provide information on specific subjects of interest
Inform Board Members and Decision Makers of their responsibilities and sources of help
Assist the Alabama Department of Environmental Management with current regulation updates
Provide the latest information and technology available to assist water and wastewater operations
Help prepare operators for certification by conducting schools for both water and wastewater
Member of the Alabama Operator Training Advisory Committee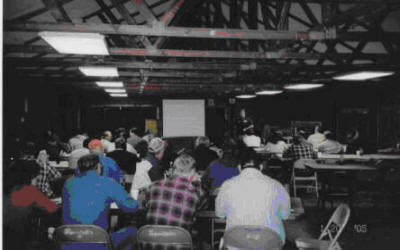 A Trenching/Shoring Safety & CPR Basics Training Session held in Alexander City is an example of our CEH training program. Twenty two water systems were present represented by 52 attendees. A total of 7.5 continuing education hours were offered to assist with operator certification renewals.
Future Training
If you need training or assistance that you don't see listed, complete our Training Survey. We want to assist you.