Utility Security Issues

Basic Utility Readiness Guide

The ARWA has developed a Basic Readiness Guide for public water and wastewater utility use as follows:
Heightened Utility Awareness
As you are aware, the United States of America, as well as the remainder of the World, is subject to terrorist attacks.
This leads to measures that must be initiated within public utility operations.
The intent of this notice is not to cause alarm, but rather to heighten awareness of responsible utility personnel.
The ARWA is offering this informational guide for your use as you develop a heightened awareness status program for your utility.
General Provisions
Employee Awareness - Cameras - Employee Identification
Locks on all Gates, Doors, Buildings, Electrical Panels and/or Control Panels
All Vehicles Locked
All Gates Locked
Additional Lighting
Routine Checks by Law Enforcement
Signs Posted (Do Not Enter, Closed Circuit Security Monitor, Employees Only and Restricted Area)
Dummy Cameras
Security Systems and Alarms
Security Fences
Knowledge of Surrounding Terrain
Reporting Suspicious Activity
Plans of Action
Auxiliary Electricity
Emergency Telephone Numbers (911)
Secure All Vehicles
Limited Personnel with Keys to Areas of Potential Weakness
Know When to Stop Water Production
Update Emergency Response Plans to Include Terrorist Acts
Review Emergency Plans with Employees and Officials
Do Not Leave Keys in Equipment at Any Time
Emergency Communications
Be sure to have telephone numbers for the following:
Local Law Enforcement
County Law Enforcement
Local Fire Department
Hazardous Material Handlers
Local Hospitals
Rescue Squads
Alabama Department of Environmental Management
County Emergency Management Agency
County Health Department
Center for Disease Control
Electricity Supplier
News Media for Publication Notification
PLUS Emergency Telephone Numbers for Consecutive Water Utilities
AND Know When to Issue "Boil Water" or "Do Not Drink" Alerts
Chemicals
Chlorine Storage
Acidic Chemical Storage
Alkaline Chemical Storage
Fuels
Oxidizers
Prepare Purchase and Delivery Schedules
Inventory of All Chemicals
Secure All Chemicals Transported by Utility Vehicles
Minimum Inventory of Chemicals
SCBA Inspected
Source/Distribution Components
Fire Hydrants (coordinate security efforts with local fire department personnel and law enforcement officials)
Secure Hydrants Located in Limited Public View Areas
Pumping Stations and Other Structures Fenced, Locked and Additional Lighting
SCADA Systems-Telemetry-Limited Access to Sensitive Information
Tanks-Eliminate Accessibility-Locks, Remove Ladders
Metering Vaults and/or Pits-Locked, Fenced
Alarms
Increased Raw Water Monitoring
Being prepared and alert to circumstances which could be detrimental to the production and availability of safe drinking water is essential. Please take measures to ensure proper security controls are in place.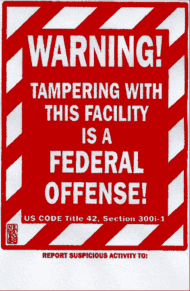 With heightened security measures underway at utility facilities, you may be interested in purchasing a number of these signs for your utility.
8" x 12" plastic
$3.00 each, member
$5.00 each, non-member
OR
24" x 36" aluminum
$25.00 each, member
$30.00 each, non-member
---
Rural Water Security Alert
For dissemination to members of the Alabama Rural Water Association
The Office of Homeland Security was created by President George W. Bush as a result of the September 11, 2001, terrorist attack on the United States of America. Its role is coordinating strategy to strengthen protections against terrorist threats or attacks in the United States.
In Alabama, the Office of Homeland Security is directed by Jim Walker. The mission of the Office is to develop and coordinate the implementation of a comprehensive state strategy to secure the State of Alabama from terrorist threats or attacks. The Office coordinates the Executive Branch's efforts to detect, prepare for, prevent, protect against, respond to, and recover from terrorist attacks within the State of Alabama.
Other actions on the national level through the U. S. Office of Homeland Security include security advisory system warnings which properly represent the current condition of the USA. The system below and to the left is provided for your information and should be maintained in your utility emergency response plans.
SECURITY SYSTEM ADVISORY WARNINGS
SEVERE SEVERE RISK OF TERRORIST ATTACKS (RED)
HIGH HIGH RISK OF TERRORIST ATTACKS (ORANGE)
ELEVATED SIGNIFICANT RISK OF TERRORIST ATTACKS (YELLOW)
GUARDED GENERAL RISK OF TERRORIST ATTACKS (BLUE)
LOW LOW RISK OF TERRORIST ATTACKS (GREEN)
In addition, the US Congress and President Bush have approved the Bioterrorism Act. The Act which is found as a part of the Safe Drinking Water Act Title XIV Section 1433 includes certain provisions affecting water utilities throughout the nation. Specifically, the Vulnerability Assessment Plan requirement of public water utilities is addressed as well as other issues. (See below for assistance in meeting these requirements).
The Act required each community water system as listed below to conduct a Vulnerability Assessment of their utility and an update to their emergency response plan:
Systems serving a population of 100,000 or more by March 31, 2003.
Systems serving a population of 50,00 or more but less than 100,000 by December 31, 2003.
Systems serving a population greater than 3,300 but less than 50,000 by June 30, 2004.
Contact the ARWA office for assistance.