EPA Source Water Protection Program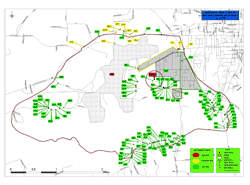 Potential Contaminants Map
Wellhead/Ground Water Protection Plan Implementation
The development of wellhead and ground water protection plans follows a 5 Step program outlined in the USEPA publication, Wellhead Protection: A Guide for Small Communities.

Development Stage:
The first three steps will be considered the development stage. They are as follows:
Step 1. Designation of a community planning team. For the purpose of this program the term "Community Planning Team" will refer to a committee-like body, designated to be responsible for the formulation of the wellhead/ground water protection plan.
Step 2. Define the area that needs protection. This step of development will focus on meeting the wellhead protection requirements of the EPA and/or State Regulatory Agencies. This step will start with the delineation of a wellhead/ground water protection area to comply with the State Wellhead Protection Plans. As part of this step and depending on the state specific needs, conditions, and resources, it may be expanded into a broader based wellhead/ground water protection area.
Step 3. Identify and locate "potential contaminants" in the delineation area. This step involves performing contaminant inventory surveys to determine the potential for groundwater contamination that may occur from point sources such as septic tanks, gas stations, and industrial facilities. Read more.
Implementation Stage:
The 4th and 5th steps will be considered the implementation stage.
Step 4. Begin management of the protection area. Management of the area will vary depending on the specific location and other variables such as economy, industry, the political climate in a community and resources. The management of the area may be non-regulatory such as public education and posting the protection area or regulatory such as land use planning and the formation of environmental ordinances. Step 4 will provide regulatory or non-regulatory authority to manage the protection area.
Step 5. Plan for the future. Step 5 is the development of an emergency contingency plan should the water supply be contaminated. Step 5 activities could also include the following:
Identification of future problems and solutions
Review and update of plans
Contingency plans for long and short term water supply alternatives.
In some states, contingency plans may already be in place through local or state emergency plan requirements and merely need to be incorporated into the wellhead/ ground water protection plan.