Asset Management Service Details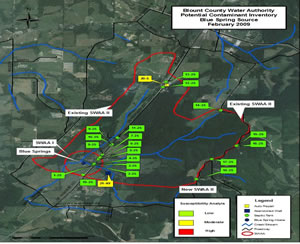 Data Collection Includes the location and age in most cases of:
Valves, Meters, Manholes, Lift Stations, PRV's, Hydrants and much more!
Data provided at Sub Meter Accuracy
SCOPE OF SERVICE
The ARWA will provide asset field data collection services utilizing GPS equipment to inventory critical asset locations and provide coordinates of visible assets including (valves, hydrants, meters, trenches, markers,
etc., as identified by the client). The accuracy of ARWA's data collection equipment has been tested to sub-meter accuracy.
The equipment to be used by ARWA includes the following: Trimble
Geo XT Standalone GPS and data collection device. The unit has H-Star technology and integrated real-time SBAS and EVEREST multipath technology. It has 512MB of non-volatile Flash memory plus removable SD memory.
PROGRAMS
Paper Map Products:
The ARWA can produce paper maps of critical components printed on the highest resolution aerial photography available from the ArcGis Online Database. A draft copy of the maps will be provided for editing and review prior to final publication. The maps can be printed in large-scale, typically 36" by 36", showing the major features with layers as desired (roads and streets, sections, railroads, rivers and streams, etc). Maps can also be generated into a map book format. The typical page is an 18" by 24" high quality, high-detail booklet that can be easily disassembled so any page can be replaced with an update.
Digital Format:
The ARWA can provide maps published in digital format. The ARWA will assist the utility with the installation of the currently free ArcExplorer program for viewing. This allows utility personnel to view and print portions of the map. Feature attributes, details such as size and date of installation, can be added and edited with additional programming.
Call, email, or complete the request below for your free quote.

Download the program brochure (pdf).
Contact us now!
You have nothing to lose by indicating your interest.
The dollars you save in replacement costs and more efficient management can help you meet budget deficits and build the reserve accounts necessary for operational needs or emergency situations.

Thank you for your interest and participation. If you have any questions, please call the ARWA Office at (334) 396-5511.
* For information on the Acrobat Portable Document Format (PDF) Reader software, visit our Software page.