Water Board Bible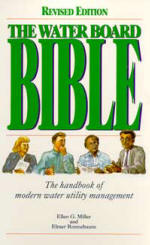 Water Board Bible
Since the Water Board Bible's original publication in 1993, over 20 state rural water associations and other organizations have purchased over 3,500 for their small water and wastewater systems. Additionally, over 500 state association conference-goers participated in sessions based on the handbook.
Simultaneously, changes were made to important federal/state laws and regulations concerning "how to do business." It was time to rewrite Section 8, " Ignorance is no excuse" and to update several appendices. We hope the revised edition is helpful to the hard-pressed governing bodies and staff of cities, towns, villages and rural water and wastewater systems.
The purpose of this handbook remains the same: To aid board/council members and utility employees who are stewards of your communities. You have been entrusted with providing a critical service and protecting the public's investment.
This handbook was written for board members, mayors, city council members and utility employees. We hope you use it as a measuring stick to see how your system is doing today- and where you could improve.
Many people have helped with the original and revised editions. The Kansas Rural Water Association Board of Directors supported all phases. Richard Becker created the design and artwork, bringing a much acclaimed dimension to the book. Professional advice and textual review was provided by Gary Hanson, attorney to KRWA; Ken Petersen, attorney to the Texas Rural Water Association; Bernie Hayen, League of Kansas Municipalities and Cheri Hunter, President, Personnel Solutions, Inc. Special thanks go to Karl Mueldener, Kansas Department of Health and Environment, for ongoing support. To those people who took time out of busy schedules for the case history interview, "Thank you!"
To those whom we have not listed by name, our deepest gratitude for your help. Any errors, of course, are the responsibility of the authors.
We again dedicate the Water Board Bible to the thousands of board/council members across the U.S. who take time away from family, business and leisure to help their communities. Let us know what you think........this book's for you.
Ellen G. Miller
Elmer Ronnebaum