National Rural Water Association

National Rural Water Association
2915 South 13th Street
Duncan, OK 73533

Robert Johnson, CEO
Phone: 580-252-0629
Web: www.nrwa.org
NRWA Webinars
A Training Resource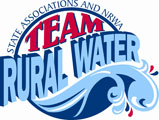 The NRWA website offers webinars on timely water and wastewater topics. To see current offerings, go to https://nrwa.webex.com/
mw0401l/mywebex/
default.do?siteurl=nrwa
The National Rural Water Association is a non­profit federation of State Rural Water Associations. Our mission is to provide support services to our State Associations who have more than 30,000 water and wastewater systems as members.
Member state associations are supported by their water and wastewater utility membership and offer a variety of state specific programs, services, and member benefits. Additionally, each state association provides training programs and on-site assistance in areas of operation, maintenance, finance, and governance. Whether you need help developing a new rate schedule, setting up proper testing methods, maintaining or upgrading your operator license, or even understanding those ever-changing and complex governmental regulations, contact your state rural water association for available services and find out how membership can benefit you and your utility!
Our support for a clean and healthy environment is second to none. Our State Associations have historically trained over 100,000 water and wastewater system personnel a year for three decades and provided over 60,000 on-site technical assistance visits a year. Over 2600 ground water protection plans have been adopted by local communities, and another 2300 are in the process of being adopted. NRWA and its S/A's do more than just talk about a better environment - we make our dreams become reality. We know that regulations don't protect public health, people do.
NRWA Board of Directors
Comprised of an elected board member from each state association, NRWA's Board of Directors strives to improve the quality of utility services for rural Americans while protecting our natural resources. Meeting twice a year, the NRWA board helps determine the direction and positions of the association.
Asset Management Program
A unique program developed to provide industry related management, operations, regulatory and technical assistance to borrowers whose loans were sold in the 1987 FmHA loan sale.
Circuit Rider Technical Assistance Program
Managed by NRWA and operated by state rural water associations, this program provides on-site, hands-on assistance to rural and small community water and wastewater systems. In all 50 states, Circuit Riders and Wastewater Technicians assist and train these systems in all areas of management compliance, operation and maintenance.
Source Water & Ground Water Protection Programs
A specialized program providing on-site, hands-on assistance to rural and small community water systems in the design and implementation of ground water source water protection plans at the local level.
Technical Assistance & Training Program
A grassroots effort operated through NRWA affiliated state rural water associations. This program assists systems by combining formal classroom sessions with on-site follow-up in Safe Drinking Water Act compliance issues, health protection related to public-drinking water as well as managerial, financial and operational issues.
Wastewater Training & Technical Assistance Program
Designed to assist systems, this program focuses on combining formal classroom sessions with on-site follow-up in Clean Water Act compliance issues and health protection related to wastewater management and operational issues.
The mission of the National Rural Water Association is "to provide our state associations with support services to meet the needs of their membership."
For more information, check NRWA's web-site at: www.nrwa.org