Drought Emergency in Alabama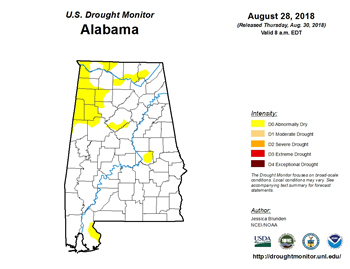 Alabama Drought Monitor
Get the latest drought map at
https://droughtmonitor.unl.edu/CurrentMap/
StateDroughtMonitor.aspx?AL

Are you Prepared?
Drought conditions throughout the State of Alabama are much better than during the historical drought of 2007, but now is not the time to let down your guard.
In past years, drought conditions forced a parent system in Northwest Alabama to restrict the amount of water its consecutive systems could receive, causing an emergency to be declared in that area. As water system operators and managers, it is our duty to remain ever vigilant in order to protect our precious commodity during times of possible emergency. Luckily, there are plenty of resources available to help you do just that.
Remember that information is a powerful tool when it comes to predicting and responding to dry weather emergencies.
Operators should perform monthly draw-down tests at each well in order to track changes in your water table.
Daily pump run-times should be monitored in an effort to track customer demand, especially during the dryer times. This information will be invaluable in detecting critical changes in your normal operating environment and could prevent supply shortages and tens of thousands of dollars in equipment failures.
Remember to update your Emergency Water Conservation Plan. This plan will establish procedures to follow during drought emergencies. Should you need help creating, updating, or implementing an Emergency Water Conservation Plan, remember that your Alabama Rural Water Association Circuit Rider has the templates and the experience to assist you.
Public education should also be a major component in any well managed water system's water conservation efforts. An informed public is more likely to conserve resources, and will be more aware of unnecessary wastes, such as leaking toilets and faucets. The California Urban Water Conservation Council (CUWCC) has an interactive website (http://www.h2ouse.org/) in which your customers can take an interactive tour of a house plan with water saving tips for every area of a house!
Hopefully, with the increase in rainfall we've been experiencing, droughts will soon no longer plague our great state. But until then, your diligent research, meticulously compiled records, and army of informed customers will help insure that you can avoid disaster and confidently move forward with every water system's goal of providing a constant and plentiful supply of clean and safe drinking water.

Drought.gov
For the latest information on drought in the US, go to https://droughtmonitor.unl.edu/DroughtSummary.aspx.
This is a national site that tries to consolidate all available information on drought.
Quick Link to Alabama-specific drought information
https://droughtmonitor.unl.edu/CurrentMap/StateDroughtMonitor.aspx?AL
Additional links include:
Alabama Office of Water Resources (OWR) at adeca.alabama.gov/ Divisions/owr/Pages/default.aspx contains links to Alabama Drought Planning.
Alabama Drought at drought.aces.edu - Alabama Cooperative Extension System Drought Information
Alabama Power Reservoir Status - Go to alabamapower.com and search on reservoir status. 
USGS WaterWatch - Go to waterwatch.usgs.gov/?state=al&map_type=real for a Map of real-time streamflow compared to historical streamflow for the day of the year (Alabama)
US Drought Monitor at droughtmonitor.unl.edu/
Southeast US Drought Monitor at droughtmonitor.unl.edu/ CurrentMap/StateDroughtMonitor.aspx?Southeast
Please provide updated information to the ARWA regarding your current drought situation. Many Conservation Plans have been implemented but maintaining which stage systems are enforcing is critical to State Agencies reporting to the Governor's Office.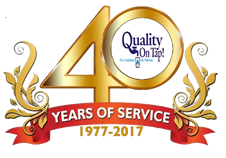 Recommended Resources
NRWA - National Rural Water Association
ADECA - Alabama Department of Economic and Community Development
ADEM - Alabama Department of Environmental Management
AEMA - Alabama Office of Emergency Management
CPYRWMA - Choctawhatchee, Pea and Yellow Rivers Watershed Management Authority - Watershed Management Plan
GSA - Geological Survey of Alabama
OWR - Alabama Office of Water Resources
RSA - The Retirement Systems of Alabama
SEIB - Alabama State Employees Insurance Board
USDA-FSA - United States Department of Agriculture - Farm Services Agency (FSA)
USDA-RD - United States Department of Agriculture - Rural Development
USDM - US Drought Monitor
USGS - US Geological Service
Open for Registration

AL/FL Joint Technical Training Conference (W/WW)
May 28-30 - Gulf Shores AL
Registration Info

Sustainable Utility Management (W/WW)
April 16 - Ozark
May 9 - Double Springs
Learn More

Maintenance of Valves and Tanks (W)
Apr 18-Rainbow City
Apr 23-Troy
May 2-Northport
May 9-Orange Beach
Learn More

Understanding and Complying with Sanitary Sewer Overflow Permit Requirements (WW)
Apr 25-Atmore
May 16-Jemison
Learn More

Water University
Utility Management Certification
Learn More

Schedule your own
On-site CEH Training
Earn CEHs

Plan for future training!
Training Calendar

Water Loss Protection
The ARWA/NRWA ServLine Program protects your utility against losses from customers' water leaks, and provides the opportunity for them to add service line repair replacement protection. Learn more.
Online CEH Training
ARWA's partnetship with SunCoast Learning provides quality online training, written FOR water and wastewater professionals BY water and wastewater professionals. Learn more.
Pay Online
Pay any ARWA invoice online.
Pay Online
Want Online Bill Pay for your Customers?
Team up with ARWA & nexcheckGov for Payment Processing, Debt Collection Services, and Online Solutions for your utility. Learn more.
---
ARWA
We are a non-profit organization representing water and wastewater systems serving rural communities and towns and commercial firms which support these systems. We provide assistance to comply with State and Federal regulations, to help with management and operational problems, and to stimulate training initiatives. Learn more about us.
GET IN TOUCH
Alabama Rural Water Association
2576 Bell Road
Montgomery AL 36117 
Phone: (334) 396-5511
Fax: (334) 396-7090 
Email: arwa@alruralwater.com
Website: www.alruralwater.com
SEARCH

Custom Search

Visit us on Facebook at facebook.com/alruralwater.
Follow us to keep up with the latest activities, training opportunities, and events!