District 7

William Snyder
Monroeville, AL
William Snyder, Secretary-Treasurer
ARWA Board of Director
William Snyder has been employed by the Monroeville Water Works since 1992. He holds the position of General Manager.
William serves on the Alabama Rural Water Association Board of Directors as Secretary-Treasurer and is a member of the Executive Committee, Building Committee and the By-Law Review Committee.
William is also the President of the Society of Water Professionals.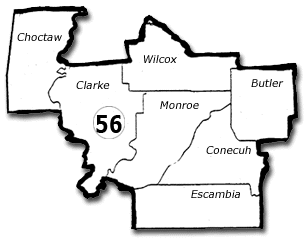 District 7 represents Butler, Choctwa, Clarke, Conecuh, Escambia, Monroe and Wilcox counties and 56 Public Water Utilities.