District 5

Echols Bryant
Alexandria, AL
Echols Bryant, Vice President
ARWA Board of Director
For the past 14 years Echols Bryant has been involved with the Calhoun County Water Authority and also served during this time as the Chairman of the Board.
Echols is currently serving as Vice President of the Alabama Rural Water Association Board of Directors. Echols has been a board member since 1997. He is a member of the Association's Executive Committee, By-Law Review Committee and Building Committee.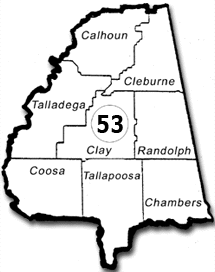 District 5 represents Calhoun, Cleburne, Talladega, Clay, Randolph, Coosa, Tallapoosa, and Chambers counties and 53 Public Water Utilities.