District 10

James Dixon
Geneva, AL
James Dixon
ARWA Board of Director
For over 30 years, James has been employed with the Geneva Water Works & Sewer Board. He has served as the Manager for the past 15 years.
James holds a Grade 2 Water and Grade 3 Wastewater Operator License through the Alabama Department of Environmental Management. James is also a member of the Alabama Rural Water Association Board of Directors. He is a member of the Association's Finance Committee, Legislative Committee, Building Committee and By-Law Review Committee.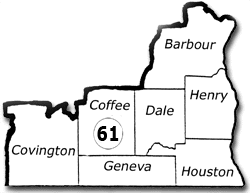 District 10 represents Barbour, Covington, Coffee, Dale, Henry, Geneva, and Houston counties and 61 Public Water Utilities.