District 1
Doug Clement
Doug Clement, ARWA Board of Directors
For the past 33 years Doug Clement has been employed by the Russellville Water Works & Sewer Board in Russellville, AL located in Franklin County.
Doug holds the position as General Manager and holds a Grade II Alabama Certified Water Operator License and a Grade III Alabama Certified Wastewater Operator. Doug has served as the Plant Operator at the Sewer Plant, Chief Operator of the Sewer Plant and Assistant Manager during his employment at Russellville.
He is a member of the Society of Water Professionals and American Water Works Association. Doug is currently serving as a Board Member of the Alabama Rural Water Association Board of Directors representing District 1.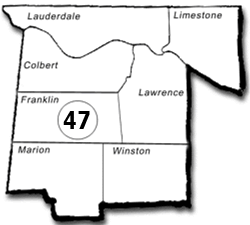 District 1 represents Colbert, Franklin, Lauderdale, Lawrence, Limestone, Marion and Winston counties and 47 Public Water Utilities.