Nitrogen Conversion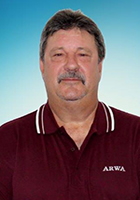 Mike Baumgartner
Wastewater Technician
By: Mike Baumgartner, ARWA Wastewater Technician
The oxidation of nitrogen in wastewater treatment is done in three steps. The first step is not talked about much. The process is Ammonification. This is the oxidation of amino acids and urea to Ammonium / Ammonia. The second step is the conversion of Ammonium to Nitrite (No2). Lastly, the process of de-nitrification is the conversion of Nitrate (No3) to Nitrogen Gas and ultimately released to the atmosphere. There are two types of bacteria that are in play. Nitrifying bacteria are called "Nitrosomes" and De-nitrifying bacteria are called "Nitrobacter".
Two separate conditions must exist for the conversions to take place. The Nitrosomes (Nitrifying) bacteria make up 5% of the overall mass population and only use Ammonia as its food source. They thrive in an oxic condition. The D.O. should be in the 1.5 mg/l range. Nitrobacter bacteria work under anoxic conditions.
Remember, Nitrogen is not removed from the system unless De-nitrification occurs. This step will reduce all forms of nitrogen. It is important to note that since Nitrifying bacteria are few, avoid over wasting or your ammonia may start to rise.
There is one more important topic to discuss since we need a healthy environment for the successful conversion. Not only do we need a healthy influent food source (Carbon and Nutrients), but adequate Alkalinity. Nitrifying bacteria are acid forming so alkalinity is needed to maintain a proper p.H. Remember that 7.2 lbs. of Alkalinity is needed to maintain p.H. per Lb. of Ammonia oxidized.
Test your influent for Alkalinity. Lastly, the Denitrification process will add back around 50% that was lost. That is one of the advantages of that process. In summary, the goal of Nitrification is to oxidize the Ammonia present in the wastewater and De-nitrification will reduce all forms of Nitrogen.
First appeared in Waterline, Summer 2018
- More News -

Open for Registration

Lab Testing Procedures with Hands-On Training (WW)
Aug 22-Boaz
Learn More

Grade III IV Wastewater Certification Test Prep Course begins... (WW)
Sep 17-Odenville
Learn More

ARWA's 42nd Annual Technical Training Conference
Mobile, Alabama
March 14-18, 2020
Room Reservations are Open!

Water University
Utility Management Certification
Learn More

Schedule your own
On-site CEH Training
Earn CEHs

Plan for future training!
Training Calendar


New! To provide our members with additional protection, we have implemented a Secure Certificate on our website. This authenticates the ARWA website and encrypts transmitted data such as name and contact information. You will see a lock symbol, a green color, or the https:// secure protocol in the address bar of your browser.
Pay Online
Pay any ARWA invoice online.
Pay Online
Water Loss Protection
The ARWA/NRWA ServLine Program protects your utility against losses from customers' water leaks, and provides the opportunity for them to add service line repair replacement protection. Learn more.
---
ARWA
Alabama Rural Water Association is a non-profit organization representing water and wastewater systems serving rural communities and towns and commercial firms which support these systems.
We provide assistance to comply with State and Federal regulations, to help with management and operational problems, and to stimulate training initiatives.
GET IN TOUCH
Alabama Rural Water Association
2576 Bell Road
Montgomery AL 36117 
Phone: (334) 396-5511
Fax: (334) 396-7090 
Email: arwa@alruralwater.com
Website: www.alruralwater.com