Lagoon p.H. "What is going on?"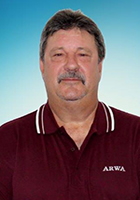 Mike Baumgartner
Wastewater Technician
By: Mike Baumgartner, ARWA Wastewater Technician
Many lagoon operations experience problems shared by most operators in the field. One of those shared problems is algae growth. While algae are living and growing in a wastewater lagoon, they can cause an increase in p.H. In fact, some of the literature will be so bold as to say algae is always the reason for p.H. increases. The reason is that during the photosynthesis process, they will consume C02 and bicarbonate leaving hydroxide behind causing the p.H. to rise to 9.5 or higher.
Remedy: Control Algae
What about a falling p.H.? The p.H. has a tendency to vary over the course of a day, with the lowest measured at sunrise and the highest in the afternoon. This is a result of algal activity. A long term decrease is a problem indicator. A decrease in p.H. may be a result of organic overload due to alga die-off. Another possible condition is adverse weather causing limited sunlight. The algae may switch from photosynthesis to aerobic respiration. Lastly, the accumulation of organic sludge on the bottom of the lagoon can reduce p.H. as the anaerobic bacteria can metabolize the solids and form organic acids.
Remedy: Increase aeration and add recirculation. If sludge build up is the problem, remove solids.
Article first appeared in Waterline, Summer 2014
- More News -