TOXICS = Microorganism Killer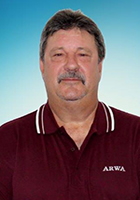 Mike Baumgartner
Wastewater Specialist

By: Mike Baumgartner, ARWA Wastewater Technician
The introduction of toxics into a wastewater plant can have adverse effects on treatment efficiency. The toxics will inhibit the performance of the nitrifying bacteria or even "Kill-Off' the entire plant population.
The most common toxics that may enter a wastewater plant are excessive amounts of ammonia, residual chlorine, detergents, paints and solvents. Other wastes that will upset a plant is heavy metals, acids, caustics and one in which I have personal experience with is petroleum products. This toxic material can enter the plant through dumping, improper handling of material, leaking vessels and pipes, or accidental spills.
Let's discuss how and what can be done in order to significantly reduce the risk. In addition to monitoring influent pH and aeration basin DO, the operators should rely heavily on sight and smell observations. Operators need to be aware of changes in the look and smell of the influent, aeration basin and secondary effluent as an indicator of shock or overload conditions.
The aeration basin DO may be the first indicator of a toxic waste load. As the toxic load moves through the aerator, the DO residual will increase significantly. If the air input has not changed, then the increase tells you that the microorganisms are being exposed to the load thus reducing the respiration rate. This scenario happened to me while working as a trainee back in 1990. I ran a DO profile and noticed the DO was really high. I brought it to the attention of our chief operator and he explained that there were no "bugs" using the oxygen. At a nearby truck stop, diesel fuel was dumped into a manhole near the plant and the plant organisms died. We had mixed liquor trucked in from another plant to basically start over.
Finally, the operator needs to make every effort to obtain a sample of the wastewater and have it analyzed for possible toxic constituents. A record of these upset conditions and constituents involved is very important so that if a problem develops at the plant, the records can be reviewed to determine the source
Article first appeared in Waterline, Fall 2012
- More News -