The Oxidation Ditch Process vs. Packaged Plant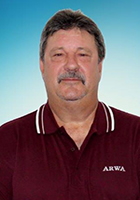 Mike Baumgartner
Wastewater Specialist

By: Mike Baumgartner, ARWA Wastewater Technician
Treatment of wastewater using an oxidation ditch is relatively similar to wastewater treatment in a packaged plant. The main difference is the oxidation ditch replaces the aeration basin and provides better sludge treatment. The oxidation ditch is a circular basin through which the wastewater flows. Activated sludge is added to the ditch so that microorganisms will oxidize B.O.D. in the water. This mixture of raw wastewater and returned sludge is known as mixed liquor. Oxygen is added to the mixed liquor in the ditch using rotating biological contactors. RBC's are more efficient than aerators used in packaged plants. Once the B.O.D. has been removed, the mixed liquor flows out of the ditch and into the clarifier. The sludge is removed from the clarifier and either reintroduced into the ditch (RAS) or wasted out of the system. Remember the principles of a proper mass balance.
So what is the difference?
The three main differences between the processes are the retention time and type of organisms which digest the wastewater and oxidation efficiency.
First, retention time is much longer in the oxidation ditch. A packaged plant usually has a retention time of two to four hours while an oxidation ditch retains the wastewater for two days.
Secondly, since dissolved oxygen is higher in the oxidation ditch there is a greater variety of microorganisms.
Thirdly, oxidation ditches are much more efficient at ammonia removal and if you want to reduce nitrogen to low levels, cycle the air on and off. It is best if you can maintain a mix during the off cycle. Through personal experience, nitrogen levels can be substantially reduced.
Remember the nitrification / denitrification process. Use it to your advantage. Oxidation ditches are excellent nitrogen removers.
Article first appeared in Waterline, Summer 2012
- More News -