High Density Polyethylene (HDPE) Pipe;
A Brief Overview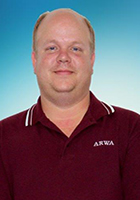 Rob White IV
South Alabama
Circuit Rider
By: Rob White IV, Circuit Rider #3
During the month of June, we circuit riders had the opportunity to travel to Tulsa, Oklahoma for our annual training session. While there, one of our classes dealt with HDPE pipe technology. While a staple of the gas industry for more than forty years, the technology is fairly new to the water industry. When properly installed, HDPE pipe is nearly leak-proof, and could last forever. The material can handle all ranges of Ph, doesn't rust or corrode, and you put the stuff together utilizing a fusion technology that essentially "melts" two pieces into one. After fusion, a cross-section of the fused area will reveal a single piece of plastic with no sign of it ever having been two pieces.
HDPE pipe comes in a variety of sizes, ranging in diameter from ½" to 65" in the United States. Also, you can find a vast array of fittings, couplings, and connectors compatible with HDPE piping. HDPE pipe and fittings can also be joined with an electrofusion method. Electrofusion couplings are designed to work with an electrofusion machine that scans a barcode on the part, automatically setting the machine to the necessary parameters for fusion, and fuses the coupling without the operator having to do a thing! Also, once scanned, the GPS coordinates of the part are then recorded into the machine's memory, allowing you to store the location of every component you install in your system. Could you imagine being able to have the location of every tap, leak repair, or any other type of coupling used in your system?
There are some special tools required to use HDPE pipe. The welding machines vary in size and cost and are absolutely necessary if HDPE pipe is a technology you are considering. Machines vary in size and cost, but once obtained the pipe and accessories (tap saddles, repair clamps, transitions) are comparable to what you are probably paying for the materials that you use now. With new and unique HDPE installations available, such as pipe-bursting, directional boring, and the ability to be installed straight across the bottom of a body of water, it is well worth considering this "new" pipe technology should you be looking to start a water project in your area.
Article first appeared in Waterline, Summer 2012
- More News -