Where are My Valves?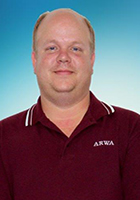 Rob White IV
South Alabama
Circuit Rider
By: Rob White IV, Circuit Rider #3
A valve maintenance program is essential to the proper management and operation of any water system, yet many water systems do not even know the locations of some of their most important valves. Due to the seemingly overwhelming amount of work and costs associated with starting a valve maintenance program, many water systems simply choose to ignore the problem until it is too late and an emergency occurs. But, be assured, the cost and time spent locating and exercising valves is far less than what will be accumulated during an emergency.
So how does one go about the task of starting a valve maintenance program?
Start by identifying the valves that are most critical to the operation of the water system. Once these valves are located and verified to be in good working order, you can move on to the task of locating more valves throughout the water system in order to be able to isolate smaller and smaller sections of the system. This will ensure that future repairs can be made while affecting the least amount of customers possible. Should you have trouble locating the "hard to find" valves in your system, remember that the Alabama Rural Water Association offers a valve location assistance program to our members free of charge!
*Note: Keeping accurate and extensive records is essential during this process. By noting the valve location, type, size, age, and number of turns to normally operate the valve, valve wear can be monitored and repairs or replacement can be better predicted and included in your budget. The ARWA can help in this area as well through the use of GPS equipment to pinpoint then plot your critical assets to a useable map format. Call the ARWA for a quote of this service.
There is certain to be a number of leaking or broken valves identified during the location phase of your new valve maintenance plan. It is important that these issues be identified, prioritized, and work orders issued as soon as possible so that repairs can be made. I would rather repair a valve at my discretion, than on Christmas Eve at three o'clock in the morning. Remember, slow and steady wins the race. Don't get overwhelmed! Every valve you find and repair is a valve gained, and soon your water system will be complete and catastrophic emergencies will be a thing of the past!
Article first appeared in Waterline, Fall 2011
- More News -