Basic Principles of Activated Sludge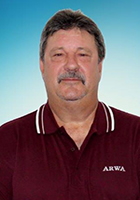 Mike Baumgartner
Wastewater Specialist
By: Mike Baumgartner, ARWA Wastewater Specialist
Activated sludge is one of the most widely used secondary treatment processes. The quality of the effluent is highly dependent on system operation. The activated sludge process can be described as a process whereby influent wastewater (Food) containing organic matter enters an aeration tank where the materials are converted and stabilized by microorganisms known as activated sludge. The main function of the process is removal of the degradable organics and production of an effluent which is low in both organics and suspended solids.
The activated sludge process consists of two basic unit processes: The aeration basin and the clarifier. I use the term basic because systems can be configured with fermentation basins when dealing with nutrient removal. For this article, we will stick with basic.
The aeration basin provides an environment where the bacteria grow and are continually mixed with the organics in the presence of dissolved oxygen. Microorganisms, through aerobic biological oxidation, remove the organics from the wastewater. The secondary clarifier provides liquid-solid separation where the biological flocs are settled, concentrated and a portion is returned to theaeration basin. There, the settled solids can continue attacking and stabilizing more organic matter. Keep in mind that this is a continuous cycle and, while some microorganisms are dying, others are being created. These organisms are a living, breathing, eating, reproducing, and dying creature.
That is why it is essential to provide the proper amount of food (organics), air and population for a successful process.
Eventually, the clarifier overflow leaves the treatment plant as final effluent. At this point, most effluents are disinfected in order to kill any harmful pathogens. If the process is properly maintained, the facility will meet all of the NPDES permit requirements.
Article first appeared in Waterline, Fall 2011
- More News -