Sludge Profiling a Lagoon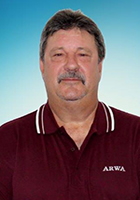 Mike Baumgartner
Wastewater Specialist

By: Mike Baumgartner, ARWA Wastewater Specialist
Profiling is a way of determining how much sludge is in your wastewater pond. The results of sludge profiling can be used as a tool to better manage biosolids. Better management of the biosolids will improve the water quality of your lagoon as well as help to keep the system in compliance with ADEM and EPA regulations. It is important to remember that the original lagoon design was intended to meet effluent quality standards much less stringent than today's permits. The effluent TSS and percent removal was
much higher than the new permits we see today. The standards can still be met but not if the lagoon biosolids
get out of hand.
When wastewater lagoon sludge volumes reach 15%, operational problems begin but may not be visibly noticeable. After sludge levels reach 33%, it is nearly impossible to constantly remain in compliance. After sludge reaches 50%, the lagoon will not function properly. Some of the operational problems associated with excessive solids are: TSS carry over into the receiving stream, Short circuiting and low D.O. levels
which may lead to septic conditions, Increased BOD, Increase in Algal growth especially blue – green algae which is toxic.
What can be done to better manage your biosolids? Dredging, Aeration or Bio-Augmentation ( adding Bugs ). Which is the best? In my opinion, aeration is the best means in controlling biosolids. Notice I said controlling. Obviously, if the lagoon is 30 to 50 percent full of sludge, you will need to dredge. Once completed, it is like starting over. However, in order to best control the solids, maintaining adequate oxygen levels will provide the needed environment for aerobic bacteria to break down the biosolids.
Article first appeared in Waterline, Summer 2011
- More News -