Biological Phosphorus Removal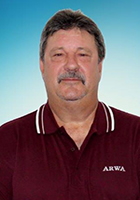 Mike Baumgartner
Wastewater Specialist

By: Mike Baumgartner, ARWA Wastewater Specialist
Discussion about nutrient removal is beginning to take center stage throughout the state. Many systems are in a report only status. However, many have seen mandatory limits depending on discharge location.
Eventually, everyone may have at least a minimum limit. Biological removal is the first form of removal. There may be additional need for chemical (polymer) and especially effluent filtration. In fact, I can almost guarantee the need for filtration. Phosphorus needs to be removed after being bound in the solids. It does not precipitate like nitrogen. The plant effluent will need to be very low in TSS levels. So, let's begin with Biological removal.
As mentioned, phosphorus removal depends upon the luxury uptake of orthophosphate which occurs in the activated sludge process. The microorganisms must be subjected to high dissolved oxygen levels followed by a zone (fermentation) free of dissolved oxygen or combined oxygen (free of nitrate).
This zone creates an enormous oxygen demand and when influent and return sludge mix with the oxygen starved "bugs", phosphorus is released while BOD is now being stored. This process is repeated using anoxic basins and reaeration basins. Eventually, the "bugs" have stored as much of the phosphorus as possible and through wasting, the phosphorus is removed. This subject can get a bit more technical but for now take this advice. Prepare for biological and or chemical removal strategies. If you are in the planning phase of a wastewater facility, talk to
your engineer about what it is going to take to meet the nutrient levels that are surely going to come. Also, you may as well begin looking into the prospect of effluent filtration. Sorry for the bad news but it is always better being prepared.
Article first appeared in Waterline, Spring 2011
- More News -